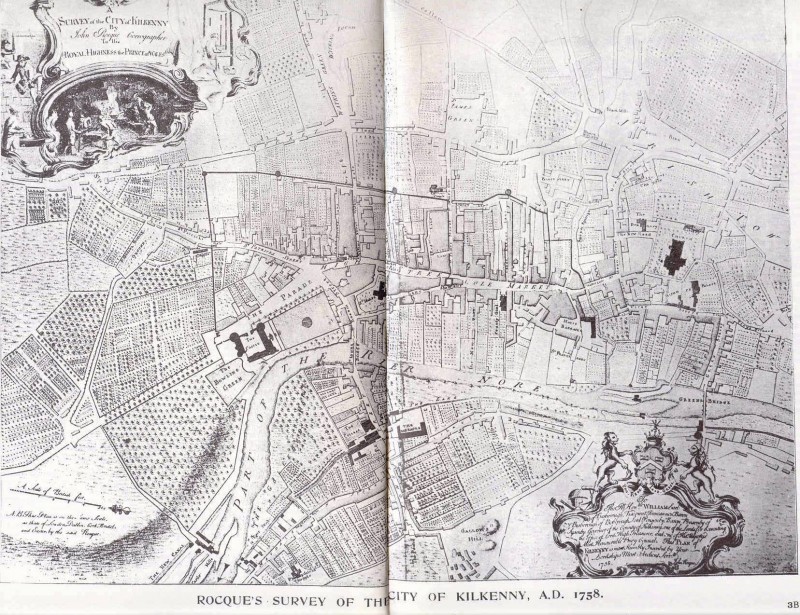 Kilkenny is well known for its narrow, medieval streets. Planners despair at how to manage the modern day traffic. There have been quite a few failed attempts at a one way system in Kilkenny -simply put, Kilkenny was built for horse-drawn carriages and people on horseback. As anyone who has watched a bus mount the pavement on Rose Inn Street perilously close to pedestrians and buggies will tell you, the streets just aren't wide enough for today's vehicles.
Bearing this in mind, the impact of the Brewery closing down is potentially huge. Suddenly there is an area at the heart of Kilkenny city that is open for development. And even with today's financial uncertainty, there is little to no doubt that it will be developed.  But the Brewery has been here since the early 1700′s and the city has grown around it.
Kilkenny Borough Council have their work cut out for them – it is critical that this site is zoned carefully as how this proceeds could affect the fabric of the city for the next 500 years and more.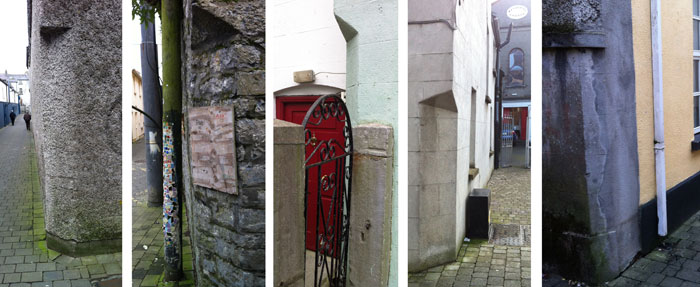 KILKENNY LANEWAYS

by Eoghan

Jan is the Kilkenny native, and delighted to be back here, but I'm discovering the city for the first time; mostly through my daughter who needs to be walked/rolled (depending on your perspective) to sleep. So I've been learning Kilkenny city's geography of quietude, as I loop from Pennyfeather and Sconce Lane as far as Evans Lane, cutting across Friary Street and James Street while passing few people and, mercifully, fewer cars. It is refreshing to have that noise confined to the distance. The sound of the town or city is a drone of car engines, accentuated by horns, bursts of acceleration, with surprisingly few voices in the distance; you are back in the bustle of the city when you are aware of people again.

In the laneways west of High Street people walk a bit slower, and the character of the buildings changes. Obviously, the streets are narrower as they are strictly about occasional and sought access to buildings and spaces, and not motivated by inviting browsers and shoppers. There is an efficiency to the architectural elements. Walls are straight and undecorated, doors are generally narrow and any articulation tends to have a functional purpose. But there is a curmudgeonly charm and every so often an unexpected spaces can be discovered, such as in the west end of William Street and Wellington Square, pictured above.

The narrow lanes occasionally cut back at corners, presumably to allow vehicles to navigate more easily, but also this means pedestrians won't run headlong into each other.

The older of these cutbacks are quite sculptural and emphasise, or even over-emphasise, the weight and solidity of the buildings that have been carved into. The third image above indicates where a laneway probably once existing now filled onto complete the terrace on William Street. The second image shows to make a corner memorable: little additions like the mosaic post really help to remember the order of your route; I imagine if Hansel, instead of pebbles or breadcrumbs, had had a pocket full of glazed mosaic tiles, an artistic bent and a bag of putty he might have done the same….

Newer buildings have preserved the feature, perhaps with less delicacy. The most recent buildings appear to have abandoned the practice, unfortunately, and display articulations that are based on aesthetics rather than function.

There are unfortunately real indications of decay, particularly on Colliers Lane; whether this is from the recession or just part of the on-going pattern of people moving away from towns and cities when they have a chance I am not sure.

Close to Wellington Square in particular I pass unusual paired doorways contained within a squashed arch alongside abandoned and decaying versions of the same – mimicking the doorways on Wellington Square itself. It does give the graffiti artists a moment to shine, although they haven't quite stepped up to the mark as yet.

Patrick Comerford's blog analyses the paired doorways throughout Kilkenny in a more considered way and is definitely worth a look.